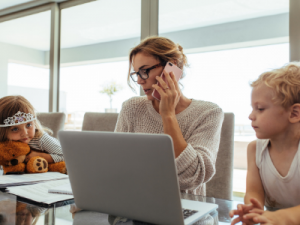 Early on, among the major concerns organizational leaders had about employees working remotely were productivity and workforce control.
Nine months in, what has happened is that productivity has increased, and most employees are responsibly doing their jobs.
It turns out the problems associated with remote working are quite different than were expected.  People are:
Working more hours – adding commuting time to their working hours, and not taking time off including vacation, weekend days, and statutory holidays with nearly half of Canadians using just slightly more than half of their vacation time this year
Struggling with the loss – of the stimulation, idea generation and creative problem solving that results from the casual conversations and interaction that occurs in shared workspaces
Trying to understand how to move from work-life balance to work-life integration while juggling work, childcare, home-based schooling in a place and space not designed for those conflicting and competing activities
Dealing with a substantial increase in stress resulting from the pandemic itself, and living in a volatile, ambiguous, and uncertain complex era characterized by economic and environmental crises, social unrest, political upheaval, and workforce automation.
The Pandemic and Working from Home